Auto Body Repair Auto Collision Repair Auto Hail Repair
Glass Replacement Windshield Repair Detailing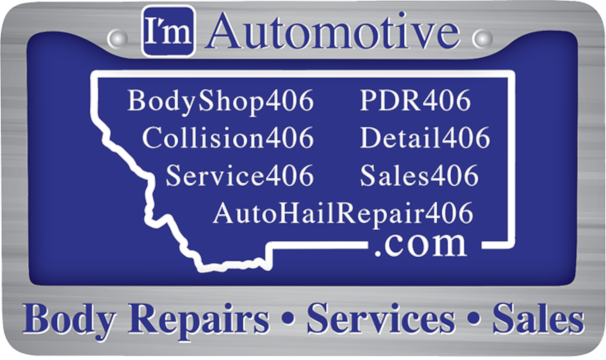 Body Shop 406 Collision 406 Auto Hail Repair 406 PDR 406 Detail 406 Sales 406 Auto Glass 406
Auto Body Repair Auto Collision Repair Auto Hail Damage Repair Paintless Dent Repair Glass Replacement Automotive Services Restorations Insurance Claims Detailing Sales
Auto Body Repair Shop in Billings
Auto body repair near me.
Auto Body Repair and Auto Collision Repair in Billings. I'm Automotive Repairs Services and Sales Center is Montana's largest locally owned Automotive Services and Sales Facility. We are your one stop shop for all Automotive Services and Sales. Professional auto body paint and repair, auto collision repair, insurance claim processing services, auto hail damage repair, paintless dent repair, auto restoration and detailing services in Billings for over 25 years.
Auto collision repair near me.
Our Auto Collision Repair certified technician teams have over 100 years experience. I'm Automotive Collision Center is recognized and certified by Cadillac, GMC, Hummer, Kia, Volkswagen, Mercedes Benz, Subaru Body Shop Repairs in Billings Montana. We provide Insurance Claim Processing Services. Auto Body Repair and Auto Collision Repair on all makes and models. BMW, Chevy, Honda & Acura, Ford, Land Rover, Porsche, Nissan, INFINITI, Toyota and Volvo Collision Repair. We Repair your vehicle and Restore it to like new condition.
Auto Hail Repair in Billings
Professional paintless dent repair.
Paintless Hail Damage Repair maintains factory finish, integrity and vehicle value while restoring it to like new condition. Because we use specific specialized PDR tools, our technicians can expertly perform paintless hail damage repair. We sculpt and manipulate the dents out to permanently remove them without harming the original factory finish. So PDR is completed through one specialized process because it doesn't require replacement of body panels or paint work.
Glass Replacement in Billings
Professional glass replacement and windshield repair services.
Your windshield is an important part of the overall structural integrity of your vehicle. So if have any damage to your windshield or auto glass you should repair windshield or do auto glass replacement as soon as possible. Trained and certified service providers and technicians can take care of all your automotive glass needs.

Automotive Repairs Services Sales